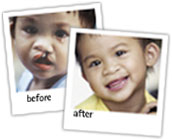 Help provide surgeries all year long with your monthly gift of $20 or more. We'll send you stories and photos every month to show you how your gifts are changing lives!
Smile Partner gifts are processed each month on the day of your first gift. You can change the amount of your gift or cancel at any time by contacting us at (757) 321-7645.
1-(888)-OPSMILE
Monday-Friday from
8:30am - 5:30pm EST
Print out form, enclose your donation, and send to:
Operation Smile
6435 Tidewater Drive
Norfolk, VA 23509
Operation Smile is a 501(c)(3) organization. Contributions are tax deductible in accordance with IRS rules and regulations

A gift made through this appeal represents a gift to the entire Operation Smile mission. To help the most children, we use your gift where it can do the most good by pooling it with the gifts of others.