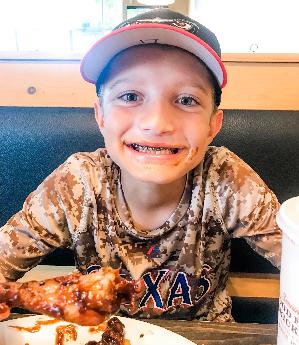 Hi! Welcome to my SmileFund Page. I'm Connor. I'm an (almost) 12-year old boy from Frisco, Texas. I love playing video games, going to the park with my friends, reading, writing, doing Legos. You know, normal kid stuff. Oh, and I also happen to have a cleft lip and palate.
I was lucky enough to have been born to a family that was able to afford the surgeries to repair my clefts and to receive the feeding and speech therapies required to help me live a normal life like I do today. Not everyone is so lucky.
In fact, every three minutes a child is born with a cleft lip or cleft palate – and many families can't afford the surgery they desperately need. In many places, children with cleft conditions are abandoned or abused. Many times they have trouble eating and drinking and can struggle to survive. Those that do can face a lifetime of shame and torment.
So that's why every year in January I celebrate my birthday by giving other children the same gift I received when I was 6 months old--the gift of a new smile. Will you help me bring hope and new smiles to children suffering from facial deformities by supporting my fundraising goal?
For as little as $240 and in as few as 45 minutes, Operation Smile can provide life-changing surgery – and renewed hope – for children around the world. My goal this year is to change ten lives by providing this surgery. (Yes, TEN!). But I can't do that without you. Please, consider making your tax-deductible gift to my smile fund today.
Thank you,
Connor
View More
My Personal Web Log
Topics
TODAY is Connor's Birthday!
Happy 12th Birthday, Connor! Can you believe what an impact you have made? Because of your selflessness, TWENTY TWO children will receive the life-altering cleft surgery you did when you were six months old. This is hard for us to fathom, that you would willingly give up birthday presents to make someone else's life (who you will never meet) better, but we're all, every single one of us, grateful that you did. To all of you who so selflessly signed on and gave a piece of your heart by donating, we're forever grateful. It really is true that a smile can change the world, so share yours this weekend in Connor's honor. Share his mission if you'd like! Do whatever you can to make this world a better place. Peace and love, friends. We're so grateful to you.
by Connor Dawson on Fri, Jan 15, 2021 @ 5:27 PM

Permanent Link No comments yet
Can you believe it?
Wow! Just WOW! Last night our local news channel, WFAA 8, shared Connor's story in an amazing "Good News" segment and when we woke up, our wildest dreams were realized! Connor has not only met that goal, but he's surpassed it in a way we didn't think was possible. And that's all because of YOU! We're so grateful and humbled by your support and are so excited to see the world changed, one smile at a time!
by Connor Dawson on Tue, Jan 12, 2021 @ 9:27 AM

Permanent Link No comments yet
Connor's Story Featured in Local Magazine
We're so excited and grateful that Connor's story was featured in the local magazine Lifestyle Frisco! All of the support for his fund is overwhelming. We love you a..!
by Connor Dawson on Fri, Jan 08, 2021 @ 12:26 PM

Permanent Link No comments yet